Class News
Spring Term
Year 6 are about to move on to a brand new chapter of their learning, using Harry Potter and the Chamber of Secrets by J.K.Rowling as their new class text to fully emerge themselves into. We will be writing various pieces of writing using this text as our inspiration and will learn about different text styles along the way too.
In maths, Year 6 will be delving deeper into fractions, decimals and percentages and developing our problem solving and reasoning skills in other areas too. 
In the afternoons, Year 6 will be linking their science and topic lessons through their Rainforest topic and Living Things and their Habitats work in science. They will learn about the animals who inhabit the Amazon rainforest and will be developing their non-fiction writing skills through their rainforest studies. In science their will have the opportunity to use different enquiry types: research, classifying and observing over time.
Year 6 will also be developing their understanding of personal safety on their visit to Longton Fire Station to take part in a Safe and Sound event. 
Autumn Term
In Year 6 this term, we are reading 'The Lion, the Witch and the Wardrobe ' by C.S.Lewis. The children will be studying the text and producing many pieces of writing based on the book.
During the afternoons, the children will be looking at the Romans and we will be visiting the historical town of Chester and the Dewa Roman Experience during this term! During this day, the children will experience the sights, smells and sounds of Roman Chester. Within our topic work, we will look at various aspects of Roman life and the changes that the Romans made to help to create the world we live in today.
UPDATE
Wow! What can I say? Our children have become truly inspired by our C.S.Lewis text and have produced some super writing. We have also tasted hot chocolate and Turkish Delight (just like Edmund in the story).
Our trip to Chester was fantastic. Just take a look at the photographs to see what a brilliant day we had, dressing up as Roman soldiers and marching through the streets of Chester to the ampitheatre. Our children made absolutely brilliant Roman soldiers! We can't wait to include some of the facts we learnt on the trip in our non-chrolonogical reports about Roman life.
Click on the links below to check out some of the experiences that Year 6 have had this year so far.
Year 6 were looking at creating simple circuits in their Science lessons – recapping previous learning!
Wow! What an amazing afternoon 6SB had at The Potteries Museum & Art Gallery. We've looked at flat back ceramic figures showing historical figures and events and even had the chance to do a little sculpture work ourselves. We can't wait to have them returned to school after they've been fired in the kiln! 6CB will be going on the same visit in December, I'm sure they'll be just as impressed as we've been today!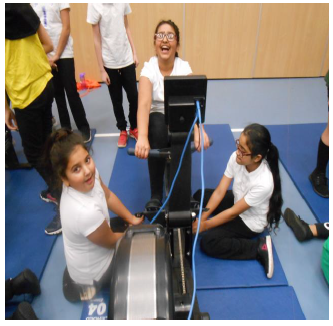 We sent two Year 6 teams to participate in an Indoor Rowing Tournament at Sutherland Primary Academy on 28/11/19.
Both teams had tremendous fun joining in on this new activity, every child gave it their best shot and they all came back energised! Well done.
Year 6 entered the world of Narnia again, this time tasting foamy hot chocolate and Turkish Delight, just like Edmund!
Year 6 had a great day at the Dewa Roman Experience in Chester. They looked at lots of Roman artefacts, dressed up in Roman armour and even got the chance to be Roman soldiers on a march around Chester!